Chiropractic Care | Prenatal/Postnatal | Pediatric
Prenatal/Postnatal | Pediatric | General Wellness Check-ups for Infants | Musculoskeletal Pain | Webster Technique
Creating health that leads to happiness.
As a mom to two young children, I know how hard it is to squeeze everything into a day – work, kids, exercise, meal prep and just keeping everyone alive. The demands on your time are big and the time you have for yourself is small. I've been there. From the exhaustion that comes from caring for a newborn to the constant 'on the go' that comes as the little ones start motoring around, it is one of the most amazing but challenging times of your life. Raising a family is hard work. You need to be strong, agile, patient and resilient. That means taking some time to care for you. You're no good to anyone if you're falling asleep standing up or you can't pick up your toddler because you have a sore back from bending over the tub to bathe the baby. Taking care of yourself means taking time for self care so you can give your best to your family.  Your family needs you and you deserve to enjoy every moment with them. I understand and I can help.
I've been a chiropractor for over a decade and for the majority of my career I have focused my practice on pregnancy, babies and young children. Families are my passion and I love working with the whole gang – including the family pets (large or small)!  Having connections with other professionals such as the La Leche League, midwives and lactation consultants enables me to provide the top quality care you deserve by supporting you with referral to other specialists as required.  Working on adults, as well as babies, children and pets, requires a variety of special techniques.  My training and experience encompass the most appropriate treatment styles for each stage of life and I've helped thousands of patients of all ages get mobile, get active and get back to creating fun memories with their families.
My practice is full of giggles and laughter, babies being nursed, dads pushing strollers and toddlers running down hallways.  It's busy and full of life and always focused on the family.  Everyone in the family deserves care and no one should be left out. Bring the crew in for a family friendly appointment or schedule some quiet time and book an appointment all to yourself.  Whether you are pregnant or postpartum, mom or dad, have a newborn or toddler, I'd love to help you and your family live their best life.  Weekend warriors are also welcome – there's usually one in every family!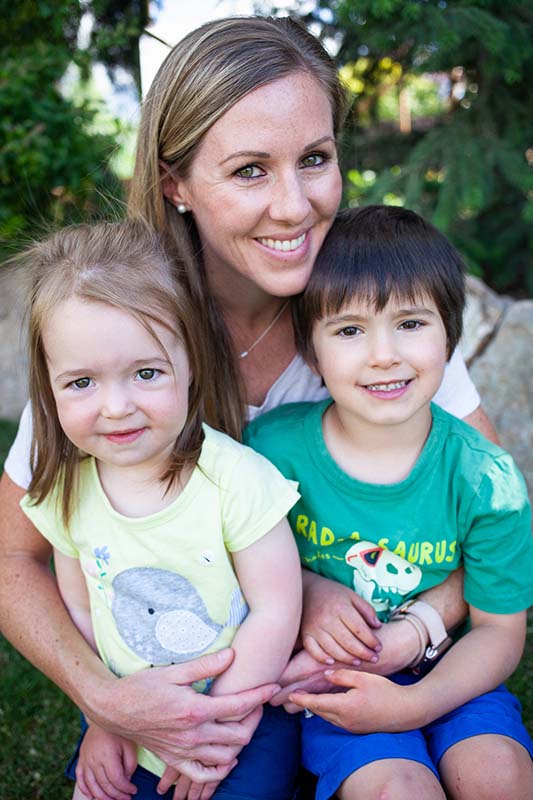 Challenges I can help you with:
Back Pain | Breastfeeding Trouble | Headaches | Jaw Pain/TJM | Neck Pain | Pregnancy Pain | Postpartum Recovery | Tongue Tie Revision
Challenges I can help your children with:
Abnormal or Delayed Gross Motor Development | Abnormal Gait Patterns | Back Pain/Joint Pain | Breastfeeding Trouble | Headaches | Optimal Wellness Care | Plagiocephaly (asymmetrical head shape) | Poor Posture | Trauma/ Injuries
Challenges I can help your four-legged family members with:
*Once assessed by a veterinarian I can help your pets with movement based issues –  for example:
Changes in Movement Patterns | Unexplained Limping | Maintaining Comfort in Movement of Older Pets | Optimal Function and Performance for Working Pets (agility, fly ball, police, fire, therapy pets, etc.)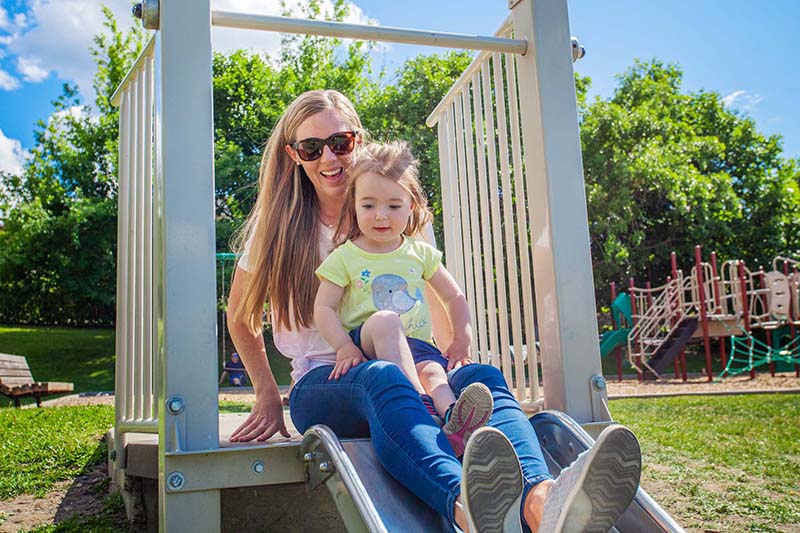 What is chiropractic care?
Chiropractic care is a non-invasive, hands-on approach to addressing your spine, muscles, joints and nervous system.
Is chiropractic care safe for children?
Chiropractic care is modified based on the physical needs and the developmental stage the child is in.  Care for infants and children is very gentle – for example, the amount of force used to adjust an infant is about the amount of pressure you would apply to test a ripe tomato.  We are not looking for 'pops' or 'cracks.'  Ultimately we do not treat children the same way we treat adults.
What is the Webster Technique?
The Webster Technique is a specific chiropractic analysis and diversified adjustment used to balance the pelvic structures.  It is a very gentle drop table technique used to help pregnant moms stay comfortable and active throughout the duration of their pregnancy. 
How many treatments will I need?
Every patient is so different, this is a hard question to answer.  To make lasting and significant changes for adults I'd recommend working with us for at least 8 weeks and continue with maintenance/wellness care.  To make lasting and significant changes in an infant, toddler or child this time frame may be reduced or increased.  Ultimately think of chiropractic care as helping you rewire your brain and create new postural and movement habits that require time, effort and commitment.  Many patients realize how much better they feel and function with regular chiropractic care and choose to continue on a maintenance basis whereas other patients decide to only come in when they can barely get off the couch. Regardless of your movement goals, we are here to help you.  
Will my insurance cover chiropractic care?
At Monashee Health Collective we offer direct billing to a large number of insurance providers. Though most extended health benefits cover chiropractic care, we recommend checking with your provider prior to your first treatment, to confirm whether you have coverage. Here are a few questions to ask:
Will my plan cover chiropractic care?
How many visits per calendar year?
Do I need a referral?
Do I have a deductible?
If yes, has it been met?
How should I prepare?
First and foremost, please take the time to fill out our intake form before your scheduled appointment.
Wear comfortable clothing that is easy to move around in.
If the appointment is for an infant, please try to feed them prior to their appointment and dress them in comfortable and easily removable clothing.
If the appointment is  for a toddler or a child, please feel free to bring snack, books, activities etc to keep them entertained.
Please allow for up to 60 minutes for your initial appointment and 15 minutes for your follow up appointments.  I try my best to run on time; however, with a practice filled with kids, it is often tough. Please know I am always striving to be as on time as possible.
If you know that you require more than 15 minutes for your follow up appointments, please book our extended visit to allow for enough time to address your issues.